On some systems, you may, apparently quite randomly, start to see "black bars" over test question answers. We believe that this happens to well less than 2% of users.
This appears to be due to a deep bug in certain MS-Windows video drivers or related subsystems.
If this happens to you, we suggest running the program in 'full screen mode.' Full screen mode works by a completely different drawing technology and therefore will not have this problem.
To enter full-screen mode, click on the button as shown below.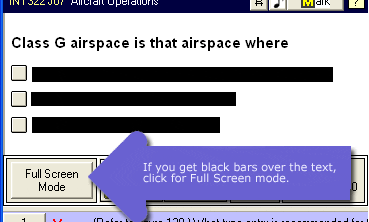 Thanks for your Understanding, and Good Luck on your test!